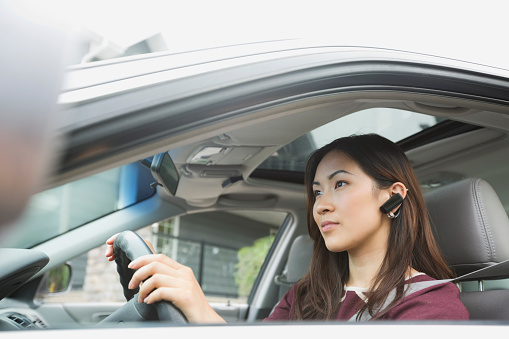 Distracted driving is everywhere on Arkansas roads, and sadly, it's becoming the new norm. Today, more drivers are immersing themselves in the use of technology — many of whom are completely unaware of the dangers they pose to others.
More than 3,100 people died across the United States in 2017 due to crashes caused by distracted driving, the National Highway Traffic Safety Administration (NHTSA) reports.
There are three types of distracted driving that don't necessarily have to be caused by cellphone use. According to the Centers for Disease Control and Prevention (CDC), these include:
Visual distraction — Taking eyes off the road
Manual distraction — Taking hands off the wheel
Cognitive distraction — Daydreaming or taking mind off driving
Hands-free technology may be legal but is still risky
In Arkansas, the use of handheld devices is prohibited, unless they are used for emergency purposes. However, there are no current laws banning the use of hands-free or built-in infotainment technology. Both types of technology, however, can be equally as distracting. What's worse, they give drivers a false sense of security.
According to Arkansas law:
Drivers ages 18 and older are allowed to use hands-free devices behind the wheel
Drivers ages 21 and older are allowed to enter, read, or select phone numbers to call and hold a cellphone during a call
Drivers who use hands-free devices may be able to keep their hands on the wheel and eyes on the road, but safe driving also requires cognitive awareness, which can easily be compromised when using hands-free devices.
Many newly manufactured vehicles are coming standard with build-in infotainment technology. Like cellphones, this technology includes several apps and features such as GPS navigation, music streaming, and calling and texting.
Infotainment technology is just as distracting as cellphones
Infotainment systems are often navigated through search consoles and complex menus that require a driver's visual and manual attention.
A recent study conducted by AAA measured drivers' ability to safely use infotainment technology while driving. The study involved two age groups: 21-36 years old and 55-75 years old. Each participant was issued a specific 2018 vehicle fully-loaded with infotainment technology and asked to use the features while driving in a low-speed residential neighborhood.
The study concluded that the technology caused distraction among both age groups. The older group, however, was found to experience more distraction when completing a series of steps. For example:
Using audio entertainment required an average of 25.4 seconds
Calling and dialing required an average of 22.4 seconds
Texting required an average of 33.8 seconds
Programming GPS navigation required an average of 40 seconds
Regardless of which technology is legal to use behind the wheel, drivers must still focus their attention on the road. When they fail to do so, they can be held accountable if they cause a crash that results in someone else's injury or death.
If you were hurt in a crash with a distracted driver, let an experienced Arkansas car accident attorney at McDaniel Law Firm, PLC help you in the pursuit of justice. To find out how we can help you, contact us online today and schedule your free consultation.