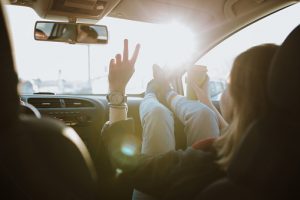 You've probably heard for years that the safest place to be in a car is in the back seat. But a new study finds that you may be better off "riding shotgun."
It's not so much that the front seat has always been the safe spot in a vehicle. It's really a case of safety advancements in the front outpacing safety features for the back seat. The findings come from the Insurance Institute for Highway Safety and the Children's Hospital of Philadelphia.
Our Arkansas car accident attorneys know no matter where you ride in a car, you might suffer serious injuries or worse in a collision. Safety features in modern cars do reduce the risk to occupants of cars, but it's also important for all drivers in Jonesboro and elsewhere to observe the rules of the road, avoid distractions and stay focused.
But the recent study finds that back-seat passengers, even when wearing a seatbelt, have a 46 percent greater chance of dying in a crash than someone in the front seat of a vehicle made after 2006, according to a report in Yahoo! A research scientist involved in the study said front seats of newer vehicles are safer than the front seats of older cars.
But that doesn't mean children should ride up front. Studies find that children under 9 years old are safer riding in the back seat, most likely because of the restraints they use. Experts still recommend that children under 13 years old ride in the back seat.
What Can Be Done to Make the Back Seat Safer?
Researchers say improvements can be made to better protect back seat passengers in accidents. They include making seat-belt enhancements:
Seat-belt pretensioners and load limiters (features that have been available in front seats for years) should be added. A pretensioner is a feature that removes excess seat-belt slack in an accident. A load limiter allows some of the seat belt to slacken and reduce the risk of broken ribs.
Reminder chimes to alert back-seat passengers that they are not belted. Studies find seat-belt usage is not as prevalent in the back seat as it is in the front.
Rear airbags that deploy from the roof or from the back of a front seat.
What if I'm a Passenger Injured in an Accident?
Whether seated in the front or back seat, a passenger injured in an accident is generally not at fault. That means the passenger usually has an easier time than the driver filing a claim for compensation. If you are injured as a passenger in a two-car accident, you will want to get insurance information from both drivers. However, sometimes you may need to file a claim against one of the driver's insurance companies. For example, if you are in a car that is rear-ended, the driver of your vehicle would not be negligent. You would pursue a claim against the other driver.
Any car accident case can quickly become complicated, especially when multiple insurance companies are involved. Anyone injured in an accident should not wait to speak with an experienced attorney at our firm to help explore options.