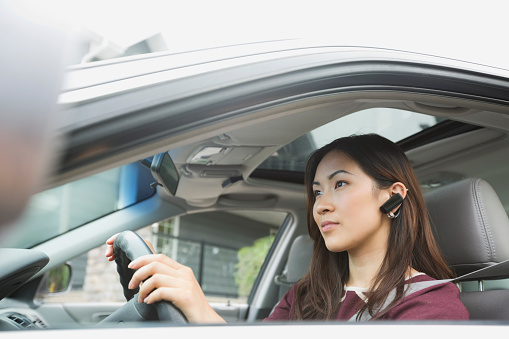 Electronic devices have become ubiquitous in vehicles, even as the dangers of distracted driving are increasingly apparent. Many motorists are attempting to take advantage of all of the connectivity that their devices provide without the risk of a collision. As a result, drivers turn to hands-free devices, such as virtual assistants or speech-to-text features on their phones, GPSes or in-car infotainment systems.
Yet an experienced personal injury lawyer knows that using any type of electronic device is no safer with a hands-free system than it is to actually hold the device in your hands or manually enter text. In fact, there is some evidence to indicate that there is actually a greater risk associated with using voice control features than there is with simply holding your phone or electronics in the first place.
Several new studies have confirmed that hands-free systems are no safer. Further, evidence now suggests that people who multitask may be doing long-term damage to their brain.
The Risks of Multitasking While Driving
According to Yahoo News, two new studies examined the dangers of driving while using hands-free electronics systems. The studies looked at infotainment systems in popular vehicles manufactured by Chevrolet, Mercedes, Hyundai, Ford and Chrysler. The studies also looked at the use of the virtual assistant Siri in Apple phones.
The different electronic devices were rated based on the level of distraction they caused to drivers. The rating scale went from one, which was a minor distraction, to five for major distractions. The drivers were tested using devices in real-world settings, as well as on a driving simulator in order to determine the impact of the multitasking.
On this scale, Apple's Siri did the worst. The Siri system received a distraction rating of 4.14. Several drivers who were using Siri while driving actually rear-ended other cars on a driving simulator. When it came to infotainment systems, the MyLink by Chevrolet was the worst, with a distraction rating of 3.7. These hands-free systems were actually found to cause greater distraction than they would have if the motorists had simply used their hands to control their electronics.
Clearly, drivers need to avoid using these systems since they put themselves and other motorists in danger when they try to use a voice-control approach. However, they may also be causing themselves problems outside of their car by multitasking as well. According to Forbes, people who multitask regularly have more difficulty paying attention, are less able to recall information, and are not as easily able to switch from one task to another as are people who do not routinely multi-task.
This is bad news because it means that the people who are driving distracted on the most regular basis may actually be the worst at multitasking. Drivers need to be aware of the dangers associated with even voice-activated systems and should refrain from focusing on anything other than the road when they are in their vehicles.
If you were injured or a loved one died in a traffic accident, a Jonesboro personal injury lawyer can fight to protect your rights. Contact the McDaniel Law Firm at 1-855-524-4744. Serving Northeast Arkansas including Jonesboro, Paragould, Craighead County, Lawrence County, Greene County, Mississippi County, Poinsett County and surrounding areas.