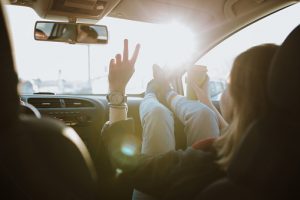 Drivers have a responsibility to passengers to stay safe and avoid unnecessary risks. A big part of this important responsibility involves drivers not letting passengers they are transporting cause a distraction.
This can be hard sometimes for parents with kids in the car or for teens with friends in the car. But when parents do focus on their kids-- or when drivers are paying attention to passengers and cause car accidents -- those drivers can be held accountable.
Parents and other motorists who let themselves become distracted by passengers can be responsible for both injuries sustained by other drivers and passengers, if their actions were found to have been negligent.
A tragic motor-vehicle accident in Arkansas recently resulted in the death of four and caused three injuries, with both adult and child passengers suffering fatal injuries.  The crash clearly demonstrated how passengers can present a risk to all motorists on the road by causing a driver to become distracted.
KSPR reported on the tragic collision. The accident was a head-on wreck on U.S. 62 on a Sunday afternoon. A man was driving a pickup truck with his wife in the passenger seat when the pickup truck was hit head-on by another vehicle.
The man who was driving the pickup was killed and his wife had to be airlifted to a nearby hospital for emergency medical treatment. The vehicle which struck the man's pickup contained a mother, a grandmother, and the mother's three children. The grandmother, mother, and baby all died and two of the children in their car survived but sustained injuries.
The family was on their way home from church and the mother had reportedly turned around while driving the vehicle to admonish children who were acting up. When she turned around and took her eyes off the road, she struck pickup truck head-on.  Her distraction killed her own passengers, injured the other driver, and put the other driver's passenger at critical risk.
This accident is one of many tragic illustrations of why a focus on passengers significantly increases risks for everyone. Parents of young children are not the only ones who could potentially endanger themselves and others by focusing on passengers. Teens are notorious for becoming dangerously distracted and taking unnecessary risks, which is why so many states have graduated licensing rules restricting underage passengers. Arkansas has such rules, limiting new teen drivers to only having one passenger with them who is under 21.
Drivers need to remember their responsibility isn't to talk to passengers, but is instead to keeping those passengers and all other motorists on the road safe.  Even if a passenger causes a distraction, it is the driver who is to blame for accidents and who is held legally liable for the consequences of a serious or fatal collision.