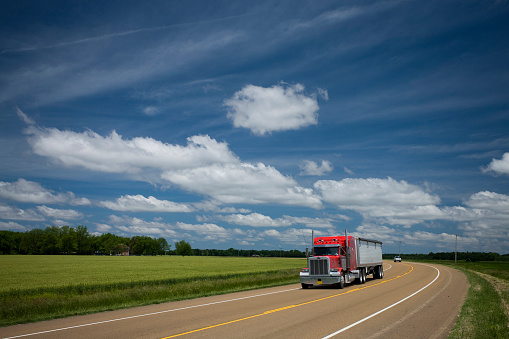 An Arkansas truck accident lawyer explains the recall, why wrecks happen
Defective truck parts that could potentially cause a steering malfunction recently resulted in the recall of more than 100,000 Freightliner Cascadia tractor-trailer trucks, according to Fleet Owner magazine.
Daimler Trucks North America (DTNA), which owns Freightliner, issued the recall and notified the National Highway Traffic Safety Administration (NHTSA) about possible mechanical defects in the Freightliner Cascadia trucks which could potentially cause tractor-trailer accidents.
This is not the first time in recent years that Daimler Trucks North America has recalled Freightliner trucks. On July 13, 2020, DTNA recalled more than 164,000 Freightliner Cascadia trucks manufactured since 2017 due to potential problems with the truck's brakes. Specifically, corroded modulator valves were found to cause delays in the brakes being applied on the brake modulator valves in the tractor-trailer trucks, according to Fleet Owner magazine.
Why were Cascadia tractor-trailers recently recalled?
The recent recall of more than 100,000 Freightliner tractor-trailer trucks concerns Freightliner Cascadia trucks manufactured between 2019 and 2021, as well as some 2019 Freightliner Classic Cascadia trucks.
DTNA issued the recall due to a mechanical problem with the truck's drag link taper joint. Specifically, the defect caused the taper joint to potentially come loose and separate from the truck's steering arm, which could result in a tractor-trailer accident.
Why do tractor-trailer accidents happen?
Accidents caused by tractor-trailers happen for many different reasons. The most common cause of crashes involving large trucks (vehicles that weigh more than 10,000 pounds) is driver error, according to an in-depth study of truck accidents conducted by the Federal Motor Carrier Safety Administration (FMCSA).
The federal agency which regulates and oversees the commercial trucking industry conducted the study, which analyzed 141,000 truck accidents nationwide. According to the FMCSA, driver error accounted for 87 percent of truck accidents. Mistakes made by truck drivers were divided into four categories:
Decision errors – The most common type of driver error, 38 percent of truck accidents in the study occurred for this reason. Decision errors can include misjudging the speed of other vehicles, speeding, tailgating, or driving too fast during bad weather conditions.
Recognition errors – The second most common cause of truck accidents in the study, 28 percent of truck accidents happened due to recognition errors, which include distracted driving, texting while driving, and other distracting behavior. Texting while driving is against the law nationwide for drivers with a commercial driver's license (CDL), which is necessary to operate an 18-wheeler or other large, commercial trucks.
Non-performance errors – These types of driver errors (the cause of 12 percent of accidents in the study) include falling asleep at the wheel or medical emergencies while driving, including having a heart attack or a seizure on the road.
Performance errors – A total of 9 percent of truck accidents in the study occurred for this reason, which includes truck drivers making an illegal maneuver (illegal U-turn, illegal left turn, running a red light, etc.), failing to properly control the truck or overcompensating the steering of the truck, resulting in a crash.
The remaining 13 percent of truck accidents in the study occurred for two reasons – vehicle-related problems (10 percent of accidents) and environmental factors (3 percent). Vehicle-related problems include:
Manufacturer defects, such as the recent Freightliner recall, or defective brakes or tires.
Poor truck maintenance, which can result in tire blowouts or the truck's brakes not working properly.
Improperly loaded trucks, resulting in the truck's cargo shifting in transit and the truck becoming unstable and tipping or rolling over. This is often a common cause in rollover truck accidents and jackknife truck accidents.
Environmental factors normally involve hazardous weather conditions, including snow, ice, hail, sleet, heavy rain, or high winds. In such dangerous weather conditions, truck drivers need to slow down or stop altogether.
Whatever the cause of your truck accident, make sure you have an experienced truck accident lawyer investigate your crash and gather evidence in support of your injury claim.
How can a lawyer help?
Collisions caused by tractor-trailers involving smaller vehicles can often be complicated legal cases. The tractor-trailer driver who caused your accident might try to blame you for causing the crash. Dealing with trucking companies and insurance companies can also be very challenging. They often have several lawyers working for them for one, simple reason – to find evidence they can use to minimize or deny your claim. That way, they don't have to pay for your medical bills, vehicle repairs, replacement income, and other accident-related expenses.
This is why it's important to have a lawyer on your side, aggressively investigating your case. The clock is running the second your crash happens. Trucking companies only have to keep certain evidence for a limited amount of time, including the accident data (the truck's speed at the time of the crash, whether the truck driver applied the brakes, etc.) from the truck's black box, also known as an event data recorder (EDR) or electronic control module (ECM). This information is only kept for 250 ignition cycles or less, which is often less than four weeks.
Don't miss your only opportunity to get the money you deserve. Get an Arkansas truck accident lawyer you can trust. Schedule a free consultation with the McDaniel Law Firm, PLC in Jonesboro. Attorneys Bobby McDaniel and Brett A. McDaniel know how to handle complicated truck accident claims. That's because we've been doing this work for decades. As a result, we know the state and federal laws that apply to commercial truck accidents. We understand how the legal system works. We know how to get the job done right.
Contact us to find out how we can help you. We're the law firm you want when it matters most.